Town Centre Development
Supporting town centres to develop their vision for the future
Town Centre Development
Babergh and Mid Suffolk District Councils' Economy and Regeneration team are leading work in supporting town centres to develop their vision for the future.
We work with our partners on the 'Vision and Invest' programme across our five key towns to drive future growth, sustainability, and quality of life. This vision programme is facilitated by the District Councils, working with local partners and stakeholders including businesses, community groups and the Town Councils. We do this by:
showcasing a sense of place and what makes each town unique
setting out the town's long-term ambitions and priorities
giving clear messages as to why people should want to live, work and visit
giving clear messages as to why businesses should continue to invest in the towns
providing a framework for local partners to work together, joining up plans and projects, and engaging communities and business
supporting planned and new partnership projects that will deliver the shared ambitions
Town Partnership Groups have been set up to develop this approach in each of our 5 key towns. Links to specific information on each of the town visions, and their activities are available from the navigation panel.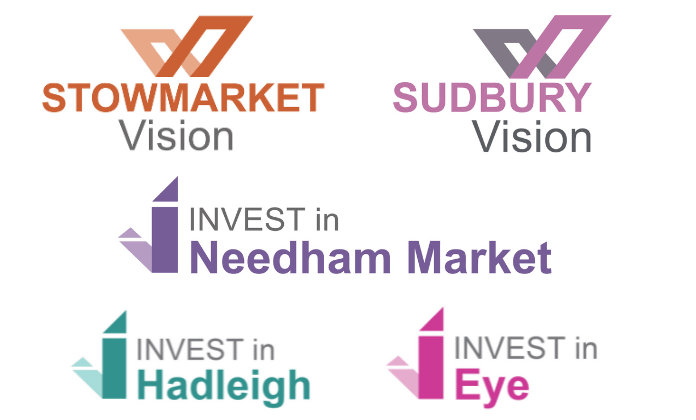 Your Virtual High Street, supporting our town centres
In March 2020, the first Virtual High Street was launched in Sudbury after Sudbury Town Council saw the opportunity to help businesses through the first, unprecedented national lockdown.
In October 2020, following investment from Babergh and Mid Suffolk District Councils, the online platform was relaunched with additional functionality and promoted across Sudbury. Over 100 businesses joined within the first month.
With further investment from the Suffolk Inclusive Growth Investment Fund, the Virtual High Street has now launched across the districts, and encourages communities to support their local businesses in Stowmarket, Hadleigh, Needham Market, Eye, Stonham Aspal, Lavenham, Long Melford, as well as business centres and retail zones.
In 2022 the platform expanded to national level, and now gains attention from Bury St Edmunds, Staffordshire, and Bury Greater Manchester.
Businesses can join the platform for free taking up new opportunities including built-in eCommerce, promotional offers, experiences and more. Being on the platform promotes engagement with local and wider audiences as well as encouraging footfall back into town centres. We aim to positively benefit shops, venues and hospitality across our districts and support businesses to thrive in the future.
To join or to find out what businesses are in your area – please visit the Virtual High Street