Vision
Babergh and Mid Suffolk District Councils' Vision Programme is helping Needham Market develop and realise a vision.  The vision "articulates the place and its attractiveness, defines who the place is for, how it is special, where it has come from and where it is going in the future".
Workshops
Working with place specialist partner thinkingplace, and town stakeholders (including community groups, businesses, and the Town Council) the District Council is developing the Vision for Needham Market.
The process started with a workshop attended by residents. They shared their views about Needham Market and what makes it special, unique, and loved. The consultation subsequently provided a potential Vision for the town, with key priorities and ambitions for future growth and development. They include:
creating action plans
developing an identity and 'unique selling point' to promote Needham Market
stimulating civic pride and promoting investment
Following consultation with the community, businesses and stakeholders, a  "Plan on a Page" for the Vision of Needham Market was developed –  Invest in Needham Market TP Consultation Summary POAP
The Council collected lots of information and will continue to engage with the community. This will therefore ensure that the Vision truly reflects the people of the town and their ambitions.
Current projects being delivered or in development as part of the Needham Market Vision include:
Needham Lake Visitor Centre
Love Exploring walking trails
Needham Market Library relocation
Improvements to Rail Station accessibility
Virtual High Street
Middle School site housing developments

Needham Lake Visitor Centre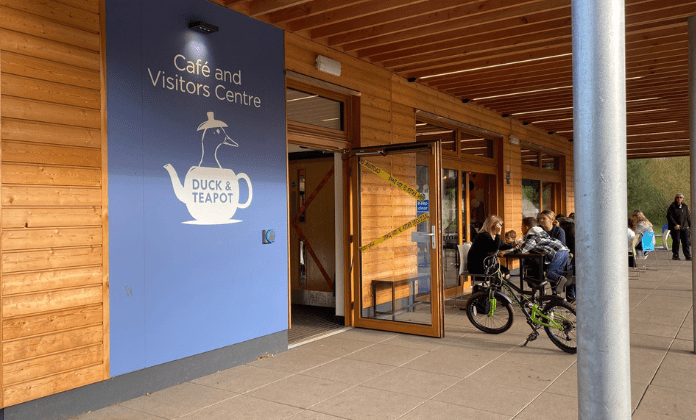 The Duck & Teapot is the latest addition at Needham Lake, one of Suffolk's most popular free tourist attractions. The venue operates as a café and visitor centre at the countryside attraction. The name of the café was voted for by members of the public, with more 1,000 people selecting the name Duck & Teapot.
Councillors from Mid Suffolk District Council were joined by partners involved in funding and delivering the new café to mark the opening.  This included the new café manager, representatives from construction company SEH French, Needham Market Town Council and others. The site was constructed by local building firm SEH French Limited.
Designed to complement the natural surroundings, the Duck & Teapot meets Mid Suffolk District Councils' climate change ambitions.  The cafe features environmental benefits  like solar panels, sustainable drainage and building materials and an air source heat pump. The café will also play host to the local wildlife with a number of bird boxes being dotted around the building.
In addition to providing food and drinks to visitors from across the country, a community space in the Duck & Teapot will be available to rent. This can be used by community groups both during the day and in the evenings.