Pub Walks in the Heart of Suffolk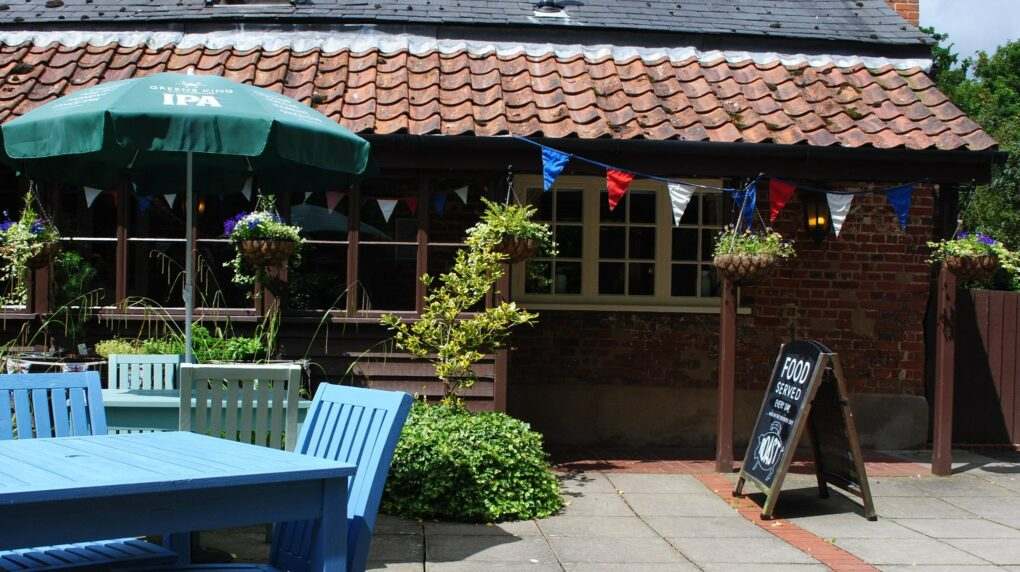 Pub Walks in the Heart of Suffolk
Heart of Suffolk, home of Constable Country, Stour Valley and historic market towns all have plenty to offer. If you're a fan of exploring stunning countryside before finding a spot for a pint and some pub grub, pub walks are just the thing.
Sometimes there's nothing better than a fresh cold pint, or a full-bodied wine and even some hearty pub grub to enjoy after a day out exploring the calm Suffolk countryside. Simply escaping to the countryside and exploring new paths before ending your trek at a pub can be the perfect weekend activity. We agree that there is something refreshing in the comforting simplicity of a walk and a tipple at the local watering hole. So, if you're stuck for ideas on where to go, we've put together a list of some of the top pubs in the area to accompany the perfect weekend walk.
Long Melford
One of the great wool towns of Medieval Suffolk, Long Melford is a quaint village boasting two stunning Manor Houses: Kentwell Hall and Melford Hall, as well as independent shops, galleries, antique centres, tea rooms, restaurants, hotels and pubs! Long Melford is also home to a beautiful country park with links to wonderful walking routes along the river and through the Suffolk countryside.
Walking Route: The Mill Walk
A 2½ mile walk leaving the village past Melford Hall and Holy Trinity Church before turning west for splendid views across the Stour valley.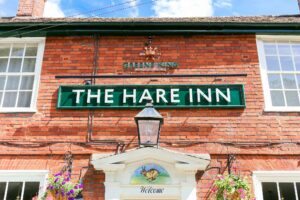 A traditional country pub located at the northern end of Long Melford and just a short walk from both the Tudor Estate of Kentwell Hall and Melford Hall stately home.  With plenty of parking, Hare Inn is the perfect stop for a bite to eat after a walk.
Eye
A picturesque market town with an impressive array of listed buildings, quaint independent shops, plus a beautiful church and castle. Eye has a rich history with its Castle dating back to the 11th Century, as well as the magnificent 15th century Church of Saint Peter. What was once the country's smallest borough still has a wealth of attractions and interesting sights to make this a destination well worth visiting.
Walking Route: Explore Eye Castle Circular |Love Exploring
Eye Castle Circular is an easy 1 mile loop trail, with interactive information as you walk following the Love Exploring app. The trail has plenty of interesting historical facts while taking you through the beautiful town of Eye.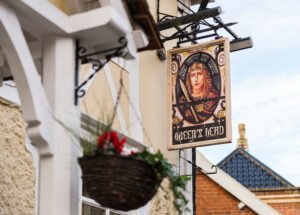 The Queens Head dates back several hundred years as an ale house, and continues as an independent Free House, serving fine ales direct from the cask. It's got mediaeval beams, open fires, brilliant food, and a fantastic garden – and it's right in the heart of the town.
Chelmondiston & Pin Mill
Located in the Shotley Peninsula, Pin Mill was made famous by Swallows and Amazons author Arthur Ransome! It offers tranquil Suffolk walking routes with stunning views of the River Orwell, as well as local shops and of course one of the finest and most dog-friendly pubs in the area!
Walking Route 1: The Butt and Oyster Pin Mill Walk
This short 1½ mile walk follows easy paths and delivers excellent views of the river Orwell, before visiting one of Suffolk's most iconic pubs, made famous as the setting for the opening chapters of two of Arthur Ransome's Swallows and Amazons series of children's books.
Walking Route 2: Arthur Ransom's Trail
If you're looking for a bit of a longer walk, this 5 mile route follows the River Orwell between Pin Mill and Shotley Pier. As you follow the trail discover the history, landscape, wildlife and the locations that feature in Ransome's book.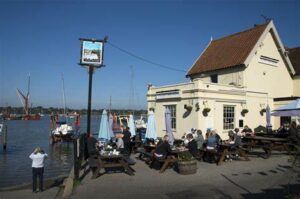 The Butt & Oyster is one of the best known, dog-friendly pubs in Suffolk. Situated in the hamlet of Pin Mill on the River Orwell, renowned for its good beer, good food and great views. With beautiful walks around Pin Mill, this is the perfect addition to your day out.
Needham Market
Suffolk is full of rich history and Needham Market is another town to reflect this. Full of character with its High Street being a designated conservation area, and several Grade II listed buildings throughout the town. The independent boutiques, farm shops, pubs and restaurants have a certain unique charm about them. Located in the Gipping valley, Needham Market was one of the historic wool towns until the onset of the plague from 1663 to 1665 which you can find more about through the interactive trails. You're surrounded by so much history walking through this wonderful town and around the stunning Needham Lake.
Walking route: Barking and Back | Love Exploring
This 3 ½ mile circular route is a moderate trail around historic Needham Market. Follow the ancient tree-lined "corpseway" towards Barking Church before returning 'over the tops' with far-reaching views across the Gipping Valley.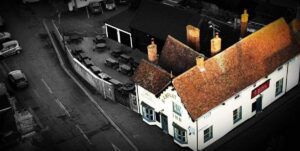 Just a short walk from the beautiful Needham Lake, The Rampant Horse offers local Calvor's beers, wines, and importantly good pub grub! The cosy atmosphere and friendly service makes this the perfect spot to end your walk on a high and reflect on your trip to Needham Market.
Sudbury
A pretty market town, Sudbury was home to painter Thomas Gainsborough and is the location that inspired Dodie Smith, author of 101 Dalmatians. Sudbury is a thriving market town with independent shops, cafes and restaurants, a weekly market, beautiful riverside, and countryside walks, as well as art shops, galleries, museums and theatre.
Walking Route: Railways & Meadows | Love Exploring
The Railways and Meadows trail is a moderate 3½ mile loop in Sudbury. Follow the route of the former railway over the River Stour towards Brundon Mill and return through the meadows of the historic Common Lands, once walked by Thomas Gainsborough. The trail is primarily used for hiking, walking, nature trips, and bird watching.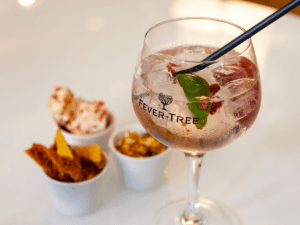 Stylish and comfortable, the Wagon at Sudbury offers something for everyone, from morning coffee to evening dining and cocktails. The Wagon serves a wide range of local ales to promote independent businesses as well as a seasonal food menu that won't disappoint. It's a great addition to your walk in Sudbury before you head into the town to explore the weekly market.
Stowmarket
Stowmarket is the largest town in Mid Suffolk with its popular shopping centre including independent shops and much-loved cafes and restaurants. Stowmarket has a rich history and is not only mentioned in the Doomsday Book in 1086 but is also home to 131 listed buildings. Stowmarket has many fantastic visitor attractions including the incredible John Peel Centre, the Museum of East Anglian Life, and the Regal Cinema and Theatre. There's plenty here to make a day out in Stowmarket one to remember!
Walking Route: Stowmarket churches walk | Stowmarket
As one of the longer walks, this 6 ½ mile trail starts and ends at Stowmarket Railway Station featuring woodland, meadows, historic churches and views of the River Gipping. But of course, if you're wanting a shorter stroll feel free to circle back up Ipswich Road once you hit the Magpie Inn.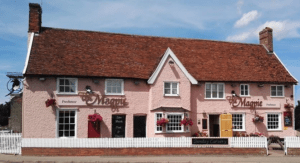 Believed to be the longest running pub in the area, The Magpie Inn dates to 1619 and is hard to miss! The pink cottage pub welcomes you in with its cosy lounge and friendly atmosphere. Serving a selection of quality assured beers and ales, it is also home to "The Gin Palace", "Vodka Valley" and "Rum Cove". If you've worked up an appetite after a long walk The Magpie Inn offers a wide range of food and will catering to even the pickiest of eaters.
We have listed just a handful of the great pubs and walks in the Heart of Suffolk and there are plenty more to discover, either along the river or in the countryside.
Some of these walks are featured on the free Love Exploring app which also features a range of interactive activities.